Quantify your skills & be the best as you grow in your role as a .net developer
Introduction
Dot Net is an innovative architecture that makes connectivity easier to handle and a lot more accessible. This open source technology has high prospects for the future. Hence, pursuing a career can do wonders. Our trainers will help you understand the fundamentals of the framework through rigorous real-time projects and practical assignments.
Why .Net?
.net is easy to learn. It allows programmers to create dynamic websites and applications that can run on multiple platforms. Also, it offers robust security measurements, testing and implementation features – enough to entice top IT leaders.
No doubt, a specialty in dot net can help you easily survive in the industry. Since many big projects are being developed in this framework every day, it is creating large scale recruitment options for both freshers and experienced alike.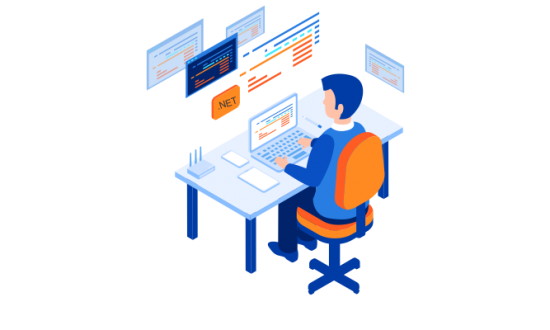 Co-create the next generation of technologies
Why choose IMCS Group for Dot Net training?
Real-time Assignments
Benefit from real-time practical experience through lab exercises.
Interview Preparation
Prepare for programming interviews with fully solved interview questions.
Doubt Solving Sessions
Approach your concerned faculty to have your doubts resolved.
Expert Trainers
Unparallel professional learning process with qualified trainers.
Job Assistance
Get placed with the ideal designation for your specific skill set.
Flexible Schedule
Customize training sessions to accommodate your everyday schedule.
Job Opportunities with Dot Net
Dot Net Software Analyst: Modifies and manages software applications, interacts with consultants and performs complex programming to meet business requirements.
Dot Net Software Developer: Develops technical interfaces, architecture, user interfaces, test software prototypes and assists others in handling project requirements.
Senior Dot Net Developer: Collects the software requirement, evaluates and researches products, writes high-quality code, alienates project work according to client requirements, among others.