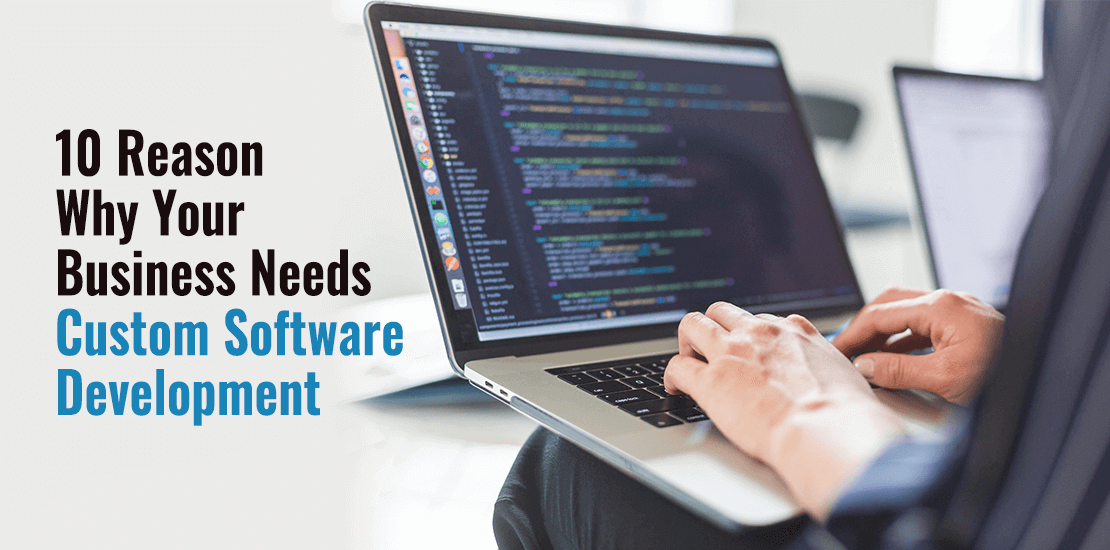 November 30, 2021
10 Reason Why Your Business Needs Custom Software Development
Posted by: IMCS Category:Custom Software Development
Even though thousands of off-the-shelf software (OCTS) products provide support to businesses, nothing can come closer to custom software development. Custom software development enables you to create software tailored to your company's specific requirements and customized to meet those needs.
The custom software development market is booming now more than ever. From IT firms to corporate training consultants, every business prefers custom software over off-the-shelf software.
In 2020, a survey was conducted, according to the Global Custom Application Development Service Market Forecast Report, which states that during 2020-2024, the custom software development market around the world is anticipated to grow at an astonishing CAGR of 7%. The revenue is estimated to touch USD 26.74 billion. It shows the growing demand for custom software which is here to stay in the future.
10 Benefits of Custom Software Development :
Following are the benefits your business could get from using custom software development.
1. Economical
Compared to OCT software, custom software might be a little pricier but with the number of custom features available, it is beneficial in the long run. They can help you save a lot of money since they need less maintenance, less training and anyone can use the software easily. Moreover, other software doesn't offer its services to a wide range of users. They are licensed to a particular set of users, whereas custom software is a one-time expenditure for all users.
2. Personalized Features
Custom software is what enhances your business in the right direction to get prolific outputs. Having customized features helps the user to identify and solve problems efficiently. Custom software is created with your specific needs in mind, allowing you to meet all of your business demands effortlessly.
3. Reliability and Efficiency
Instead of having standard software that has many features, having custom software that your business could rely on is better than the previous one. Custom software development is one of the most fundamental requirements that must be considered. When you automate tasks, there is a high chance of zero error, and your business operations run with high efficiency.
4. Automation of Daily Tasks
It is easier to automate specific daily tasks than manually doing them each day. It saves a lot of time and effort so that the employees can focus on other tasks effectively. The best way to automate your daily business tasks is to have custom software that is tailor-made to fulfill your particular needs.
5. Staying Up-To-Date
There is no need to worry that custom software might go old-fashioned in the future. Indeed, some of the best off-the-shelf software used for your business can become obsolete over time. Since all software development companies are evolving and outgrowing each other, it is best to have custom software that fulfills the needs of the business that can quickly meet its requirements while being integrated with the business objectives.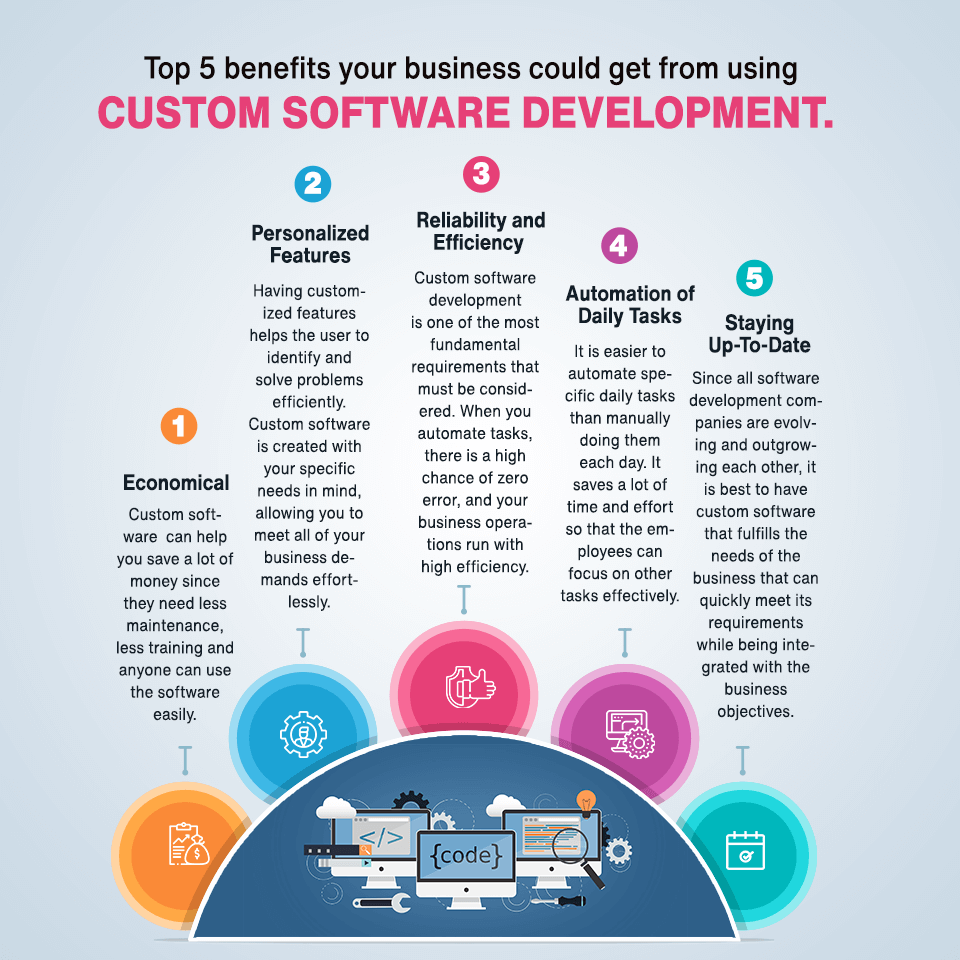 6. High Speed in Business Operations.
A custom software development company makes sure that the business operations can be automated, which ensures faster processing in accomplishing the business tasks. It saves a substantial amount of time that can be used to improve the effectiveness of the company while working towards its expansion.
7. Say Goodbye to Developers
One of the most significant disadvantages in using off-the-shelf software is that you are relying on the company for updates and other terms & conditions. The company might run out of funds for that particular software or stop releasing software updates which could cost you big time at a crucial point in the business. Custom software is created to cater to the needs of the industry fully customized to the needs of the company. Apart from maintenance charges, this software can be used for a longer time.
8. Specific Solution
To have a custom software development that is specifically built to meet your exact requirements could scale your business to the next level. Many companies choose off-the-shelf software at first and later, they realize that it doesn't fit their business. It is essential to check which functions suit your business and choose the software accordingly. Working with customized products provides you with a lot of room and opportunities for expansion. It also indicates that you are serious about your business's growth and success.
9. Security
If you compare off-the-shelf software and custom software, the latter is more secure and has high privacy. You can run your business without any worry, as it is difficult for hackers to lay their hands on your software. Custom software needs more effort to break or hack as there are fewer hacking possibilities. IT consultancy services use custom software specifically for this purpose.
10. Convenient Reporting
Running your business is one thing but keeping it organized and maintaining records is a complex task. You should be able to access, retrieve and analyze the data of your business whenever you want. Custom software makes sure you have these reports in an orderly way. It is easier to customize invoices, attendance, daily reports, and your products.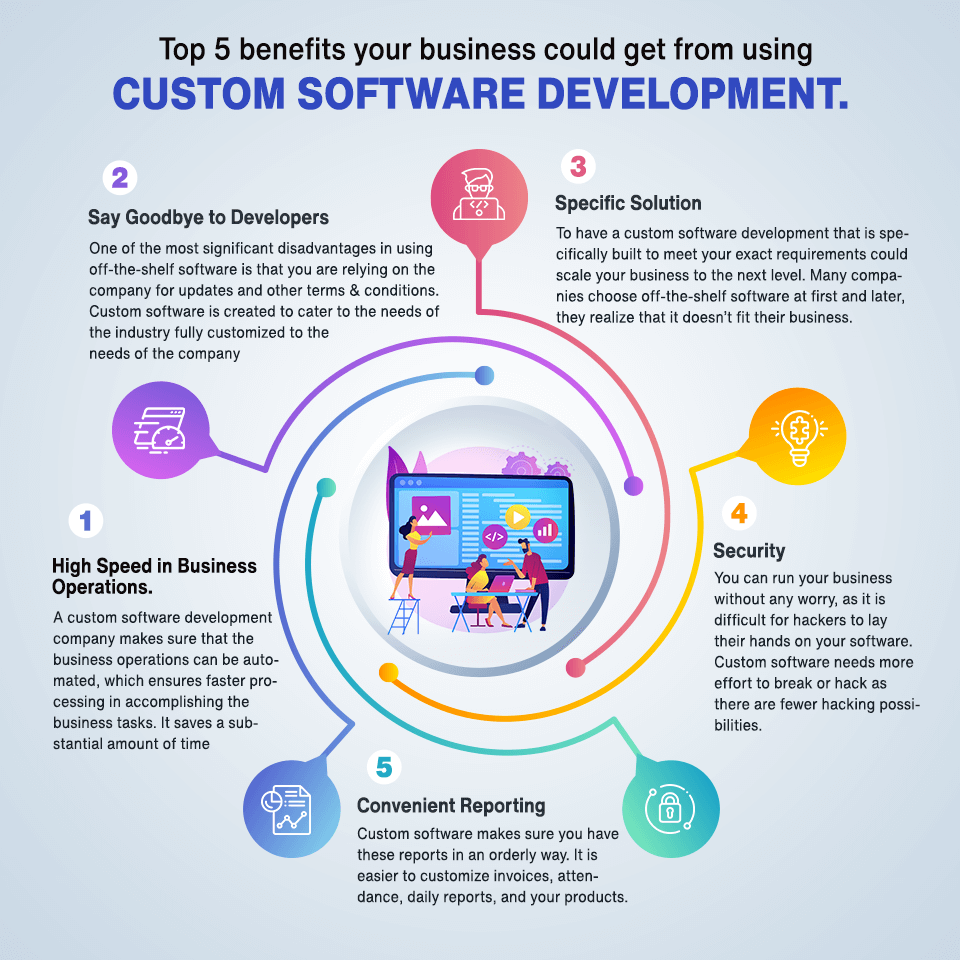 Additional Benefits
Unlike other softwares, custom softwares are scalable. They are flexible and it is crucial in today's business world.
When you use custom software, it is easy to achieve compliance in your business. It is necessary to acquire all the information.
Repetition of tasks is avoided as there is more room for automation. There are fewer chances that could cause an error in your business operations.
Companies could go paperless in the future, and custom software could achieve the same level of customer satisfaction without paper.
Summing up
You need to run your business in the most efficient way to outrun your competitors.  To do that, you need to have a software system that saves you time and money. Choosing custom software development is the right thing to do because once your business scales, it will be easier for you to manage.