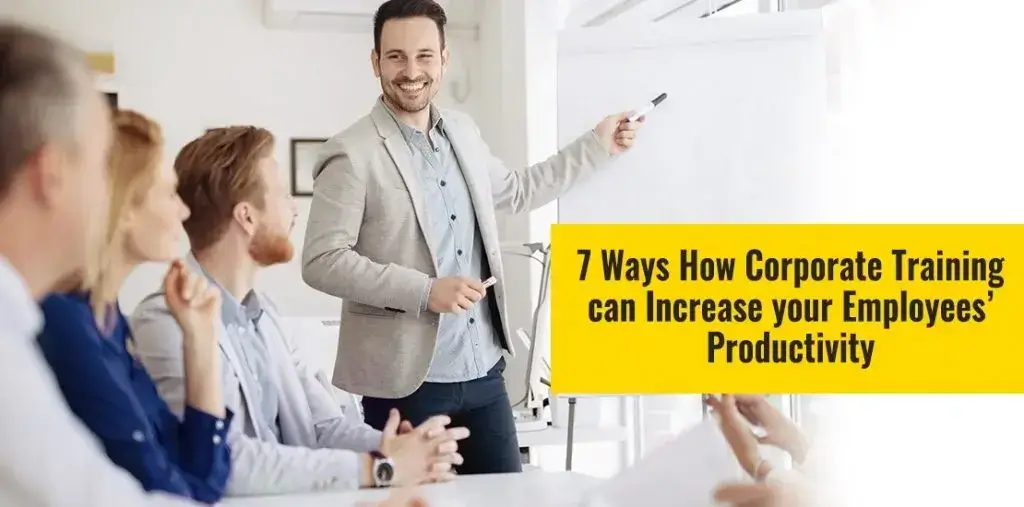 November 19, 2020
7 Ways How Corporate Training can Increase Your Employees' Productivity
Posted by: IMCS Category:Corporate Training
Do you want to make your employees feel productive at work? Are your workers feeling numb and mechanical about their job? Is your revenue stream getting affected because of your employees' present-rate work strategies? Then, corporate training is the bull's eye!
Regardless of which sector or industry your business functions, workforce productivity is influential to employee productivity. When your employees feel satisfied with their work and perform well at the office, then the chances are likely that your organization's output/results are positive and scalable. And to boost your employees' productivity, corporate training programs are necessitated.
7 Remarkable Ways Training Programs Improve Productivity
Besides the idea of boosting revenue or mere productivity, there are other benefits that your business can reap when it utilizes training sessions. Here are the seven notable perks among the many advantages;
Skill Development:

If you think that your prevailing workforce lags behind the skills needed to strive the business forward, then corporate training programs help receive those skill sets. Moreover, as an employer, these training sessions will give you better clarity of the skill gaps that exist with your teams and office departments.
From developing your existing abilities to forming new ones, training your corporate employees helps them deal with any challenge, be it professional or personal.

2. Performance Orientation:
There is no purpose in doing your business if the employees cannot understand the real value of success. Actual winning does not mean higher ROI or better service marketing; it refers to the minor accomplishments that your brand should reach. Additionally, when you hire experienced corporate training consultants at your premises, then you may witness:
Measurable competency.
Enhanced research analysis.
Better strategic goal identification.
Rewarding business milestones.
By giving training programs for your employees, the entire organization gets to know their Key Performance Indicators (KPIs) and helps them lead the success path right.

3. Consistency Maintenance:
For businesses that are already good at their operations, regular training programs help maintain your workforce consistency; be it in results, engagement, or performance. What's more noteworthy here is that training your organisation can well-prepare the team to develop new work policies and regulations that are consistent in the long-run.
And if your employees know what their ends would be, then the expectations (in the business and customer perspectives) can be attained, promptly and precisely.

4. Turnover Reduction:
To maximize your efforts and minimize the risks, you should primarily stand in the shoes of your employee. Increasing business revenue is much easier as compared to that of reducing your turnover. But those additional hiring, replacement, and outsourcing costs can be cut-down, with effectual workforce training, thus acting as a psychological booster.
So, the next time, make sure your employee feels valuable about his or her works, and as an employer, you will see the results!

5. Reputation Improvement:
What is the point in reaching business milestones, if your product or service is undesired by your clients and customers? Corporate training works not only helps to improve the internal reputation and productivity of your office but also helps in extending the brand awareness and profile identification among your target audience.
Though it might sound like an indirect benefit, corporate training programs are suitable for any business domain, to improve on their reputation, offline or online. Some of the best strategies to avail of this benefit include:
Individual counselling sessions.
On-field learning schedules.
Business mentorship opportunities.
In-house training modules.
6. Self-Esteem Elevation:
There would be situations where your employee works to their best level possible, yet is not satisfied with their job profile. For this, giving your employee proper training can help them identify their weakness and improve on those aspects. So, the individual getting trained becomes convinced and works towards the well-being of the self and the job.
As a direct approach, corporate training improves or increase the self-esteem of your employee. And you can witness this change in your employee's thinking, acting, and judgmental patterns.

7. Customized Solutions:
Is your business running on the one-size-fits-all scheme? If yes, then it's high time to change your strategy! Because large-scale companies or even regular market brands with more employees need working principles, deadlines, and other work-related agendas as per the functioning department. Only corporate training can do the needful.
By bringing in professional corporate training consultants into your workforce, the assessments, presentations, games, tests, and other training-based modules can be personalized as per the handling team. Different challenges need different methods of approach, and corporate training can do everything at one go.
So, Here's Your Takeaway
Employee satisfaction, productivity, engagement, all influence the processes and outcomes of your business. Therefore, treat your employees desirably and respectably.
Corporate training programs are suitable for any industry, any business size, and any sector.
The results of corporate training imply both productivity-boosting and complete brand-boosting as well.
To know more about our corporate training process, contact our team at (972) 929-6600 and avail the above said benefits.