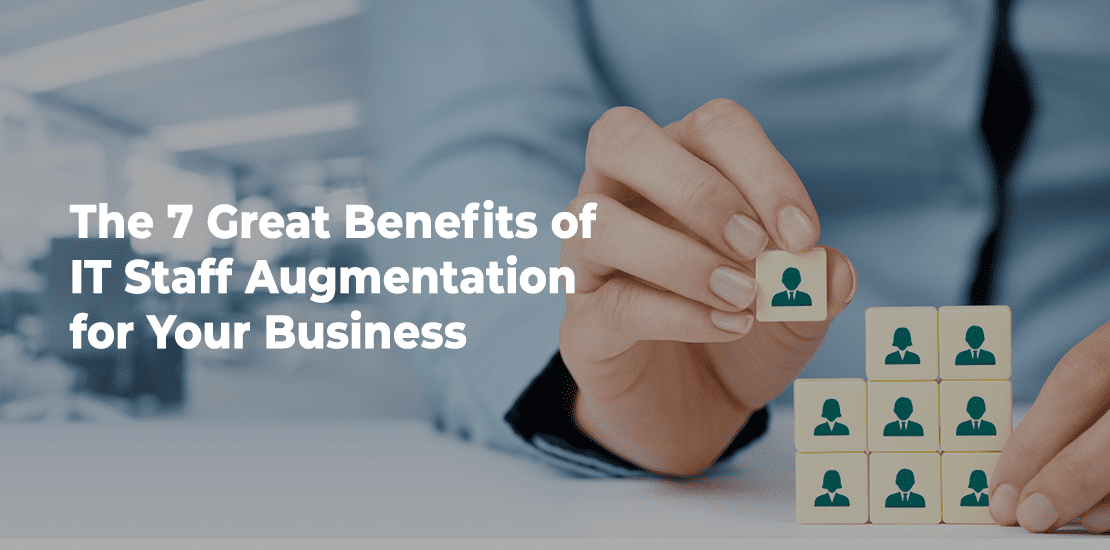 October 14, 2020
The 7 Great Benefits of IT Staff Augmentation for Your Business
Posted by: IMCS Category:Staff Augmentation
With the growth of technology, our lives are getting better and effortless to forward things. And Information Technology (IT) is no compromise to the said. From hiring programmers and business intelligence specialists to prompt service delivery and long-term customer retention, IT staff augmentation gets you covered with precision and quality.
Staff Augmentation in general standards means this – when a sector-based agency is bombarded with customer/client requirements, then that business needs a sufficient amount of manpower resources to finish the projects.
However, finding the right professionals, assessing and evaluating their expertise, and finally hiring them in-house is a big deal. And for this, something called "outsourcing" comes handy. IT staff augmentation hence outsources new expertise into the business to complete client tasks. One reason why this notion is also referred to as 'subcontracting'!
7 Notable Business Advantages of Staff Augmentation
Besides the mere idea of furnishing the given projects, staff augmentation has some unbeatable benefits to review! Let's read them from the following.
Legal Headache Gone:
As a recruiting manager or even as a general IT employer, you must be aware of how critical and tedious the legal documentation protocols are within the hiring system. It is your responsibility to submit the candidate's profile, official documents, and other legal paperwork to the concerned higher officials; overall time, and energy-consuming process! But with the support of staff augmentation, the outsourced company will take the documentation-recruitment steps and give you a stress-free outcome!
2. Client-Centered Approach:
As a business, you will put clients or customers in the first place. Similarly, the outsourcing companies will keep your projects in the first place over others. Hence, they will give you results that are compliant, quality-controlled, and double-evaluated for correctness and authenticity. Staff augmentation is thus an approach to receive project results with high quality and standards adhering to your clientele base. So, be as accurate as possible while giving the instructions and guidelines to the outsourcing brand!
3.Works Beyond Geographies:
Say that you (your client) need a healthcare-based software platform that was pre-ordered with exclusive fast delivery schedules. As a company, your immediate instinct would be to rely on in-house software developers; otherwise in and around your headquarters. So, the chances are likely that your project may be:
Delayed and submitted beyond the estimated TAT.
Dubious in terms of quality and expects a revision.
Incomplete from the professional's side.
But in this stance, staff augmentation can help you get software developers from any country around the globe at the quickest. So, rest assured that your client is satisfied too!
4.Abundance in Expertise:
Though there is a 40% hike in the hiring demands with IT staff, you will notice an ever-existing gap for professional, subject-based expertise. And specific to upcoming projects, you may lack the right manpower resource to satiate the project's needs and deeds. But staff augmentation consulting is beneficial for such conditions. Since they own numerous output platforms and have location-centric networks, they can help you acquire one or more professional, as per your project requirements!
5.Development Cost Cuts:
From reducing your operational costs to cutting down your additional expenses on broadening your professional team, outsourcing tasks with IT staff augmentationcompanies are cost-effective. The idea of remote team development is accessible effectively with much lesser budget fixations. You may only pay the tax or consultation fees to the outsourced agency. The total business amount saved from recruiting to selecting an IT professional in your company would be massive with staff augmentation!
6.Strategic Business Options:
It is an arguable fact that ideas, opinions, and values vary across the business even when taking one sector/domain. Following which, augmentation service providers are useful for the same;
They have distinctive suggestions and feedback for improvement.
They hold better Agile methodologies and practices.
They may be partly competitive or purely inspiration based.
They have the on-field experience to satisfy the exact needs of the business.
Hence, owing to staff augmentation companies, project management tactics, communication lines, and other information-oriented principles are better than the best!
7.Risk Minimization Setup:
Since you will be preparing the instruction checklist on how to submit the task before the deadline to the augmentation brand, you are guaranteed with efficiency. However, adding to this, your business may also experience a reduction in the risks and threats associated with investment and other internal planning procedures. IT employee augmentations at its core focus on maximizing their resources by minimizing the perils of your business!
Choosing the Right Staff Augmentation Provider
As you are now aware of the many benefits of subcontracting, it is time to reveal the 6 main parameters to analyze on how to select a brand for your outsourcing requirements.
Technical data involved in your project.
Current nature, type, and availability of manpower resources.
Actual scheduling and deadline estimates.
Testimonial verification before the final recruitment.
Whether you need new expertise or extend existing count.
Testing the product before going live.
Want to know more about IT Staff Augmentation, its confidentiality, average pricing strategy, and the type of industries applicable? Then contact IMCS Group at (972) 929-6600 or visit https://imcsgroup.net/contact-imcs/