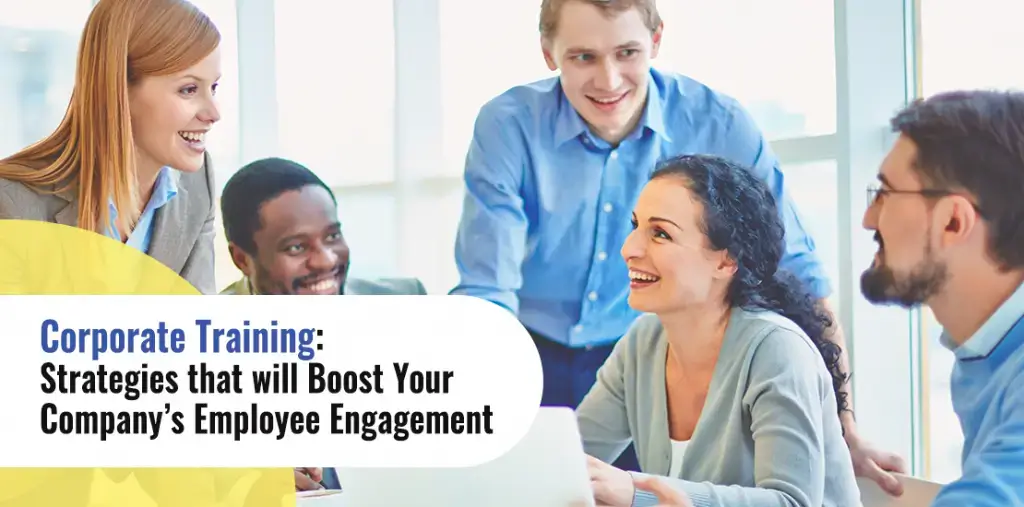 August 11, 2021
Corporate Training: Strategies that will Boost Your Company's Employee Engagement
Posted by: IMCS Category:Corporate Training
Giving significance to your land and machinery is essential. However, beyond that, your primary importance is to be given to your employees. They are the biggest assets for any organization. Especially with today's contemporary style of selection, recruitment, and training, human resources have to be engaged too, once they get hired. In that stance, employee engagement is one of the challenging yet crucial aspects that every company must concentrate on. This is even mandatory for brands that are flexible, adaptive, and open to change.
Defining What Employee Training and Development is
As the name states, employee training and development refers to the group of activities and events that focus on developing and enhancing the technical, creative, and related skills of a professional.
As per the standard norms of various corporate training programs, given below are the five key steps on how to conduct the same efficiently and effectively;
Evaluate the performance of your employee.
Identify the training requirements.
Establish clearly defined goals and objectives.
Select an appropriate training method or module.
Conduct, administer, or deliver the training.
Note that both training and development could mean the same context. However, training is more on the short-term side, while the notion of corporate employee development involves long-term goals.
Ways Corporate Training Programs Boost Employee Engagement
Now that you have a basic picture of what training and development mean, it is time to brief on one of its key perks – employee engagement. The real threshold of your employee's connection and commitment to your organization is directly influenced by corporate training programs.
Did you know that approximately more than 90% of the well-established globally now conduct employee engagement surveys? Out of which, only 20% of the business leaders still believe that their employee engagement activities and initiatives are driving their professional outcomes.
The benefits gained out of a corporate training session for your employee's engagement and commitment are priceless. And anyone can make the best use of this resource through the following described means;
Clear Learning Paths To be Mentioned:
Just before starting up with the corporate training session, it is vital to understand and mark the learning path. Which is basically drawing a proper picture about the 4 Ws and 1 H – What, When, Where, Why, and How. Answering or defining these questions on the grounds of corporate training can help evaluate the present level of employee engagement and give us an idea about how to improve its chances inside the company.
Corporate Communication Matters a Lot:
Communication is the key to any organization's success. And when it comes to employee engagement, you should first analyze what exactly are the factors that satisfy, motivate, and push that person forward; in their professional cum personal life. This way, you will be able to give real value to their esteemed works, eventually making them feel much more resourceful and valuable to the company they work for.
Helps You Get the SWOT Analysis:
Nearly half the scenarios of poor employee engagement are due to inadequacy in education and learning. And so, the outcome of corporate training can indeed better improve the chances of helping the employees learn their own strengths and weaknesses. When they know their value, they are going to contribute something good to the work (s) they do. Enhancing the skills of an employee is more like empowering their personality.
Enhancement with Empowerment:
Many popular staff augmentation companies suggest that appropriate recognition, non-monetary rewards, etc. will improve employee engagement. But it takes time and great effort to identify good work; for that, a corporate training session comes in handy. It helps managers and team leaders have sharp insights about their employee's contribution to a task or the office and applaud the deserved ones rightly.
But before anything else, remember that even with highly experienced corporate training consultants, it is required to see through if your company is change-oriented. Because the more dynamic your brand is, the more adaptable your employees and the business will be.
Your Takeaway
Enhancing the skills and proficiency of an employee is all about corporate training programs; and the person's backend to this beneficial process are deemed to be corporate training consultants.
Employee engagement is defined as the overall value that a worker gets from the company he/she works for and their contribution to the company in return. This applies to any company, be it healthcare based agencies or regular IT recruiting firms.
And if you are looking for experienced, reputable, and certified corporate training consultants who can uplift your employees to the next level. In that case, you should take up a quick consultation from the experts at IMCS Group. Contact now for more information.