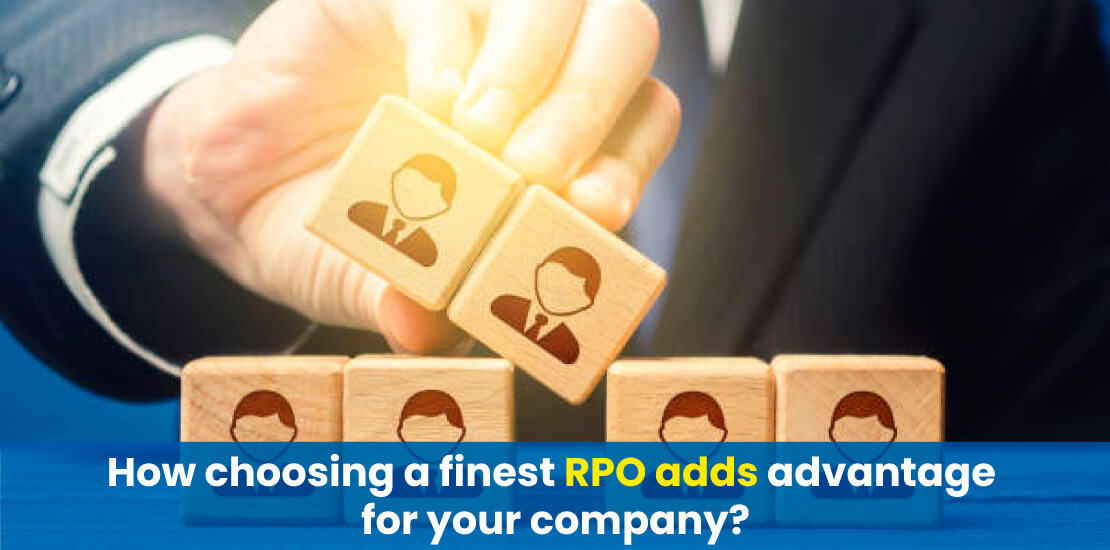 July 19, 2022
How choosing a finest RPO adds advantage for your company?
Posted by: Ralecon Consulting Category:Uncategorized
Recruiting Process Outsourcing (RPO), defined as a company's decision to outsource its recruitment process – in part or whole – to a third-party expert or service provider, is swiftly displacing all existing recruitment methods to deliver a more comprehensive workplace.
What is Recruitment Process Outsourcing (RPO)?
Outsourcing or handing over a portion of your recruiting process to third-party recruitment firms is known as recruitment process outsourcing or RPO. Outsourcing your recruiting process is an excellent method to enlist the help of specialists to do tasks that your human resource department may not be capable of or have time to complete. It is the most efficient method of doing these tasks.
How does RPO work?
In the RPO approach, a consulting team collaborates with the organization to understand their hiring requirements and design a solution around them. The RPO team then takes over a portion of the recruiting process, including creating and qualifying applicants, filling current positions, and perhaps managing future requirements.
Why is RPO important?
Most executives are concerned about entrusting such a vital task to a third party. However, the following factors explain why firms use RPO services to stay afloat:
RPO prevents complex recruiting decisions by using well-defined strategies.
RPO relieves your HR staff of the hassle of hiring and lets them move on to more important daily activities.
RPO partners are just as committed to onboarding the appropriate employees as any other organization member.
RPO firms provide talent acquisition methods that give enterprises a competitive advantage.
Why is choosing the right RPO solution necessary for your company's growth?
RPO services have recently established themselves in the recruiting and recruitment market since professionals are continuing in their jobs and firms for more extended periods. Now that things have changed, HR professionals that are nimble and adaptable devote time and effort to attracting and onboarding new personnel. We live in an era when skillsets are few and plentiful, and we must mix them.
Apart from standard HR responsibilities, an RPO provider may help with employee data analysis, employee engagement, technology adoption, and company branding.
RPO systems liberate human resources to focus on other areas of their jobs and hire top talent. As a result, before deciding on an RPO model, you should have a detailed conversation about your target audience and purpose.
Before making any decisions, you should have a plan to ensure a good return on investment (ROI) from the start.
Types of recruitment process outsourcing (RPO)
Companies should be aware of five different forms of RPO.
If your company has seasonal employment increases, such as around the holidays or over the summer, an on-demand RPO programme can help. This technique may give you a dedicated recruitment resource when you need an extra pair of hands to effortlessly integrate with your team.
If your company is changing its strategy, launching a new product or service, or expanding, having extra employees on hand is beneficial. With project-based RPO, you'll have access to a team of recruiters who can help you scale your workforce efficiently to meet these changes.
If you choose this option, you may establish RPO recruitment teams to operate alongside your existing TA or HR department. Your RPO provider will have access to a customized email address that will give applicants the idea that they are working for your company. Individual markets and/or departments might be outsourced under a set of SLAs that match your current team's KPIs.
Enterprise RPO allows businesses to outsource all components of their recruiting process. Your RPO provider will be there to help you with everything from initial applicant sourcing and screening to conducting interviews and managing the hiring process. This full-service RPO solution may help you improve candidate quality while saving money, enhancing operational efficiencies, and preserving compliance.
RPO + MSP is Total Talent
A complete personnel program is a new workforce management solution that combines RPO and MSP. This comprehensive approach to personnel allows firms to make educated business decisions irrespective of resource kind. Working with an MSP provider can also help you manage contingent personnel. Combining many types of talent into one ambit will provide you with the benefits of a diverse—yet cohesive—workforce.
RPO is fast replacing all previous types of recruiting to deliver a more holistic workplace, thanks to its growing popularity. It might be challenging to find genuine talent among a sea of techies. So, make the most of  IT recruiting services offered by our team at IMCS for all your IT recruitment needs.