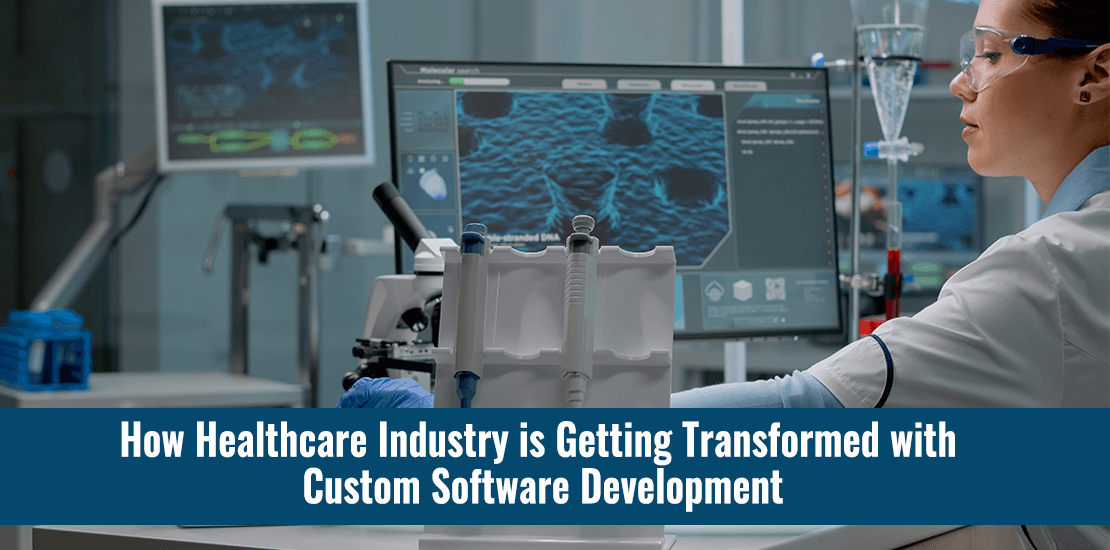 October 22, 2021
How Healthcare Industry is Getting Transformed with Custom Software Development
Posted by: IMCS Category:IT Recruitment
Information technology is revolutionizing the way the healthcare industry operates. Technology is disrupting the way hospitals and medical professionals function. The emergence of custom software development company solutions for healthcare has reinvigorated an otherwise traditionally disorganized organization. Hospitals that were disorganized are becoming professional and going paperless. Doctors are using tablet PCs and smartphones to manage diagnosis, patient care, prescriptions, and patient services.
Custom software development companyin USAhas provided solutions to many operational challenges of hospitals. Patients and those seeking medical care have experienced the benefits of well-managed hospitals. The coverage of technology begins right from the time a patient is registered at a medical facility. From the reports generated, medical appointments scheduled, lab reports generated, tests conducted, every aspect is automated. A patient's entire clinical background or history is electronically saved. Health records are digitized and hospitals are going paperless. Hospitals that were using traditional means are realizing the benefits of modernization and using the services of a custom software agency to refine their processes.
How Custom Software Solutions Have Increased Records Management Effectiveness
Messy matters related to patient record management, managing multiple patient files, and keeping stock of doctor prescriptions are being replaced. The smarter way to manage such information is being developed by custom software development firms.
Records management and storing of patient information is only half the story. Custom software also helps hospitals manage their rosters. They can manage doctor visits, staff availability, and schedule appointments without the patient's involvement. Patients may not be required to manage their follow-up appointments with the doctor, as everything will be automated.
How Custom Software Solutions Have Helped Increase Diagnosis Accuracy
Software is also aiding doctors to find the right diagnosis. A custom software agency that provides diagnostic software products is nowadays also using machine learning and artificial intelligence. This enables high-fidelity information generation.
Information systems provide doctors with statistics that help doctors finalize upon the condition. Analysis of symptoms, reports, x-rays, lifestyle, and past medical history is done via software. Data science and data analytical models are used for analysis. Data models are continuously developed and evolved as per their success rates. Doctors are empowered with making accurate decisions based on the analysis of millions of patient information.
Custom software development by a custom software agencyis preferred by hospitals rather than commercial off the shelf products. It is because the latter does not provide specific functionality and the level of customize-ability that the former can. It is also easier for hospitals to work with acustom software development agency for their hospital specific requirements.
Key Benefits That Custom Software Development in Healthcare Sector
Advanced Diagnosis– Medical electronic systems need software to process images and data. Custom software development for startups such as diagnostic labs is very critical in this regard. Medical centers need various services such as control system development, user interface design, clinical apps software, prototype and simulator development, embedded software, device drivers etc. The quality of software largely determines the efficacy of medical electronics.
High Quality Patient Care– Software solutions enable a variety of patient care use cases. Using software it is easier to manage appointments of patients with their respective doctors. Digitized patient records help doctors to retrieve, transmit, share, and analyze treatment options. There is better engagement between the medical facility and patients because of automation solutions. Otherwise, manual paperwork and relying on human memory may lead to errors that could lead to low patient experience.
Integrated System– A custom software development agency can create software applications that can integrate the entire medical facility. A hospital can have numerous departments and sub-departments. It is sometimes overwhelming for patients to navigate through various departments to get through their treatment process. Automation solutions can integrate departments, thereby easing patient experience, and reducing management overheads on the part of the hospital administration.
Customize-Ability and Evolve-Ability– Hospitals are always evolving. Custom software development for startups, such as greenfield hospitals, are always a good option that commercial ERP solutions. This is because a medical establishment can always undergo transformation. Be it in capacity, treatment options, medical departments etc. the expansion or diversification of a hospital cannot be predicted. In such cases, custom software solutions in USA for hospitals can be utilized for creating a hospital administration system with IT recruiting firms.
Improved Healthcare Standards–The use of custom software solutions by the IT consulting firmsto manage hospitals, medical centers, clinics, and diagnostic centers is helping increase the standards of healthcare delivery. More and more hospitals are beginning to use the services of custom software solutions in USA firms. Big data, internet of things, machine learning, artificial intelligence – all of these technologies are contributing to the efficiency of medical practitioners. Medical images are being interpreted in milliseconds. Doctors are able to perform surgeries with pin-point precision with the help of machine-learning enabled robotic surgical devices. The accuracy of medical diagnostic processes has increased.
Increase of Personalized Patient Services
Data driven patient services is adding value to patient experience. Confidence is being restored back in the hospital industry. Accessible data that is recorded and transmitted and available at the flick of a button is leading to improved doctor-patient interactions. Hospitals are able to personalize their patient services. They are able to manage their interactions with thousands of patients without any administrative overhead. A hospital that uses the services of a custom software development agency is able to create its own tailor-made solutions to suit its specific patient service needs.
Improved Organization and Communication
Traditionally disparate departments that had communication silos are now able to interact with each other by way of custom software solutions. It has increased the organizational culture of hospitals. Departments can share information without manual entries and paperwork. Patients are able to visit any medical department and not carry any document with them as this information is already available electronically with the hospital.
Conclusion
Hospitals such as startups can use custom software development available for startups that are focused on creating solutions that can be morphed, changed, integrated, and diversified. Hospital looking for general administration and departmental integration can use custom software solutions in USA that focus on integrated healthcare administration and delivery. Are you looking a customized software application for your new business? Reach out our team at (972) 929-6600 or send the details to sales@imcsgroup.net