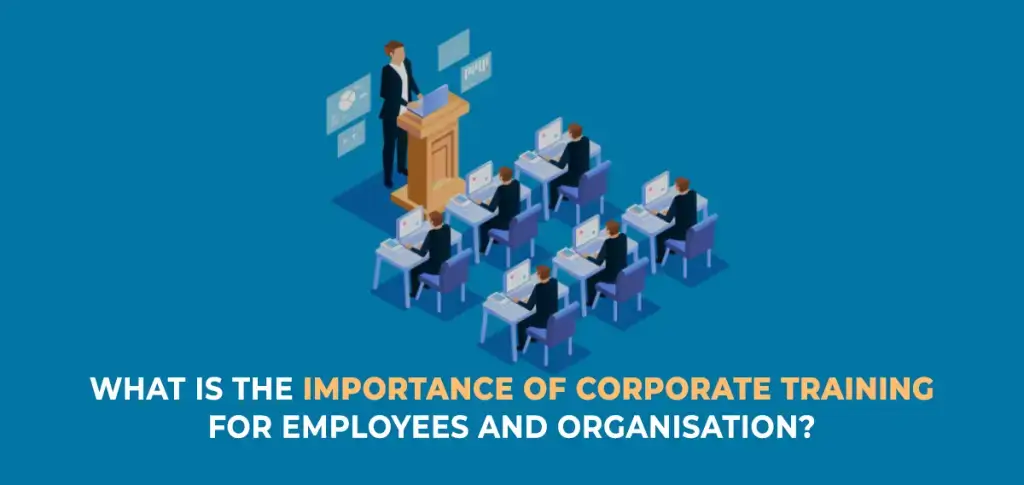 September 08, 2020
What is the Importance of Corporate Training for Employees and Organisation?
Posted by: IMCS Category:Corporate Training
Nowadays, the need for corporate training programs is on the rise among companies. The reason is that with relevant training, the employees in your organisation will be able to deliver better results. Employees are the assets of every organisation. Whether you are onboarding fresh hires or upskilling current employees, the corporate training plays a vital role to acquire new skills, increase productivity and perform better. Every company needs to encourage a culture of continual learning among employees.
A large number of public and private organisations are turning to corporate training consultants for employee training so that their employees can do their jobs more efficiently and effectively. The employees also receive ample benefits out of corporate training. So, the organisations should do everything in their power to ensure that employees perform at the peak. Training programs can have a huge impact on a company.
As technology is changing at lightning speed, are you ready to build a good reputation and a strong employer brand? It is time to invest in your employees with the help of IMCS, one of the leading corporate training consultants. At IMCS, our training and development programs are designed in such a way they are result-driven, producing targeted and tangible results for the business.
Methods of Corporate Training
On-the-job training method
On-the-job training takes place at work. Employees get hands-on-experience which enable them to develop skills, competencies and knowledge that they need to carry out at the company. Many companies use this method of training as they are more effective and it requires proper planning.
Off-the-job training method
The off-the-job training method is used in various companies wherein the workers learn their job roles away from the actual work floor. The workers are required to learn the skills and get equipped with the tools and techniques. This training method is systematically organized, adding a lot of value to the company.
Importance of Corporate Training for Employees and Organisation
Enhanced Performance
The comprehensive corporate training from the industry experts is sure to enhance your performance. The corporate training at IMCS eliminates weaknesses and strengthens existing talents. Therefore, the employees can perform better in their work with greater competency and increased confidence.
2. Boosts Productivity
The companies that invest in corporate training can see productivity increase significantly. The employees can gain increased confidence through corporate training, resulting in a greater sense of enthusiasm. Also, the training increases the skill set of the employee while enhancing the overall growth and development of the organisation.
3. Enhances Operational efficiency
The major challenge that many companies face is trying to achieve sustainable efficiency in their operations. Training is critical for human resource development, helping employees develop their strengths and contribute to an organisation. It can also help your company achieve greater consistency in process adherence, thereby meeting business goals and targets.
4. Reduces Attrition Rates
Companies are finding it easier to implement full-fledged training programs with the help of corporate training consultants. Investing in employees' training can help retain talent. As the need for new skillsets is in demand, it is crucial to put your employees on a positive career path. The well-designed training programs can reduce attrition rates.
5. Enhances Company Reputation A good corporate training program aims at helping employees perform better. It also establishes a sense of respect and loyalty in the minds of employees. If you invest in corporate training programs, you can have a better chance of having a better reputation. This also encourages more people to join your firm as employees.
6. Increased Revenue
Corporate training not only increases the operational efficiency but also your business revenue. When you consider all the benefits that the training program offers, you would not step back in not investing in training. Start a corporate training program in your company and create intelligent strategies to increase your business revenue.
Corporate Training programs at IMCS Group
At IMCS Group, we provide the following corporate training programs.
JAVA is an object-oriented, dynamic programming language and it is mostly used in web-based and mobile applications today. With IMCS Group, you can easily get trained in JAVA under experts with deep industry experience.
With Dot Net, you can create dynamic websites and applications which can run on multiple platforms. At IMCS Group, you will get an unmatched professional learning experience with qualified trainers.
The demand for iOS professionals is on the rise these days. If you are looking for iOS training, we train and help you grow your knowledge base with our rigorous training programs.
If you are willing to learn the latest tools and technologies, then learn DevOps from scratch and embark on a lucrative career path. The self-paced schedule will make your learning process easy and seamless.
Want to become a skilled performance tester? At IMCS Group, our curriculum focuses on load testing life cycle and similar testing phenomena through real-time examples. You can master the art of performance testing.
The companies are starting to realize the need for providing corporate training. Is improving efficiency and cutting costs a priority for your company?  If yes, then invest in a corporate training program at IMCS and reap the benefits. Contact IMCS right away to create a customized training program to suit your business needs!