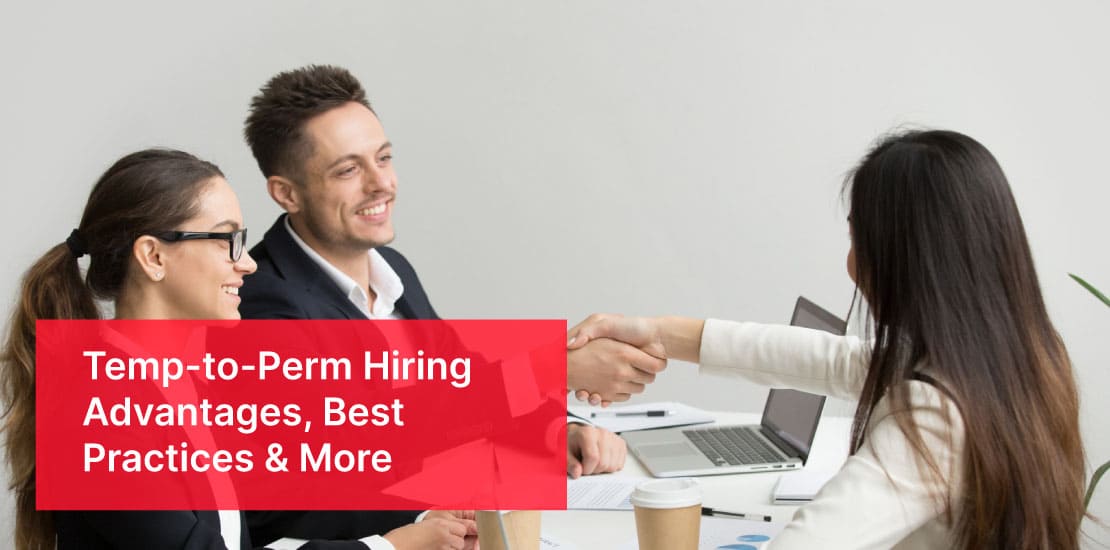 January 04, 2023
Temp-to-Perm Hiring: Advantages, Best Practices & More
Posted by: Ralecon Consulting Category:Staffing Agency
Temp-to-perm hiring can offer employers several advantages. Also known as temp-to-hire or "try-before-you-hire," this concept allows employers to bring in talent on a temporary basis before making a permanent employment offer. This gives employers the chance to "test out" potential new hires before investing resources in a formal, full or part-time hiring process.
Here is the blog post illustrating a detailed glance at temporary to permanent hiring and the few compelling reasons to choose temp-to-hire workers for your business.
What is a temp-to-perm position?
Temp-to-perm jobs are positions that may transition into more permanent roles. Sometimes temporary employees are hired with the possibility that the role could become something long-term, while on the other hand, some companies decide during the assignment they'd like the employee to stay on board permanently. Companies offering staffing solutions usually offer temp-to-perm positions to complete specific projects or get through busier periods.
What You Need to Know About Temp-to-Hire Workers
Temp to hire is the system where a company hires temporary workers, usually through the staffing agency and can change them to full-time employee if certain expectations are met or when the contract ends. This temporary period can vary but generally, it lasts for a period of 3 to 6 months. The main difference between being a temp-to-hire worker and a regular employee is that temp-to-hire isn't on the company payroll until they are hired for the full-time position. This means that temp-to-hire workers' benefits and wages are managed by the staffing agency during this period.

Benefits of Temp-to-Perm Hiring for Employers
The benefits of taking advantage of temp to hire strategy for employers are as follows:-
Determining a candidate's suitability
Hiring an employee involves a certain number of risks, especially when you hire them on a permanent basis. The candidate's resume and interviews will never tell the complete story, and there is no way to know how a new employee will perform in their role. And sometimes when the employee is unable to perform the role they claimed then, they could leave the organization or in the worst cases, get fired within a few months after joining.

Companies who are leveraging the temp-to-perm strategy using staffing services can reduce the risk of bad hires by examining the candidate in real-world conditions. In this way, they can check how they perform with the existing team and their ability to meet the requirements of the position before committing to a permanent employment offer.
Hiring an employee for the employer can be an expensive process if it is done wrong and even more so when the hired employee doesn't work out. Between advertising, recruiting, and hiring costs, it's easy to see how quickly these expenses can add up – not to mention the potential of an employee filing for unemployment or making a wrongful termination claim against their employer. While it's important to be mindful of these costs, it's also important to remember that they are necessary in order to keep your business running smoothly.

With the help of the right staffing companies in the USA, you can ensure hiring the right person and easily reduce the costs

Employees get the chance to evaluate their fit
Even it is difficult for the employees to judge whether they are a good fit for the company and the role by just touring the office and an interview or two. Hiring workers on a temporary basis gives the employees an opportunity to see if the company is a good fit for their personal and professional development. If someone has worked with the company for a short period and learned nothing about how the company works and their peers, there is no way that it would turn out good partnership for both parties.
Build a blended workforce
The contingent workforce is rapidly growing, and if companies want to be able to access the best talent out there, they need to make sure they're making the most of the entire labor pool. The blended workforce is a new concept to the corporate world, but it simply refers to a mix of both direct-hire personnel and contingent workers to meet an organization's strategic needs.
The hiring of temporary workers can offer employers access to an agile talent pool with specialized skills and work experiences. This could be impossible to hire straight away on a permanent basis.
Best Practices for Successful Temp-to-Perm Hiring
Here are some best practices to consider for ensuring successful temp-to-perm hiring:-
Treat the contingent employees as a team.
Assign a mentor.
Evaluate the performance of temp-to-hire workers and their ability to integrate with the existing teams.
Be transparent about the timing and possibility of converting to a full-time role.
Avoid the co-employment risks by already having the legal documentation in place.
Set expectations on the responsibilities of the contingent workers, and the quality and quantity of the work.
Having a staffing agency in place to hire these temporary workers on a permanent basis will give an organization the opportunity to retain top talent, rather than seeing them simply walk off to a competitor. This is increasingly important in today's tight labor market, where the best workers have more options and can be more choosy about where they work.

IMCS Group is one of the finest staffing agencies in the USA, dedicated to providing a high-quality contingent workforce to embrace the best talent and bridge the potential gap in the employment market. Want to know more? Contact us today.