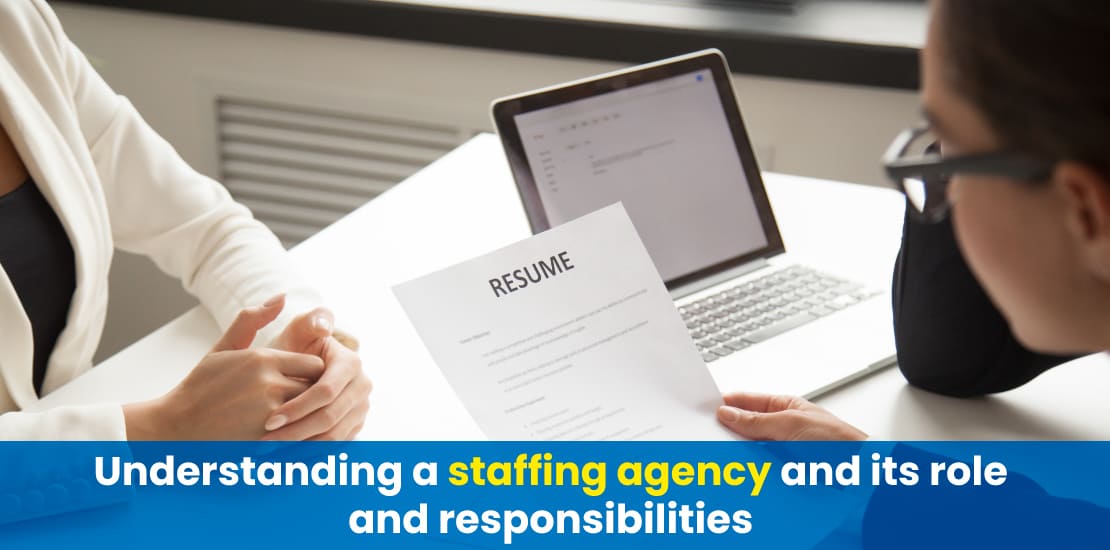 July 19, 2022
Understanding a staffing agency and its role and responsibilities
Posted by: Ralecon Consulting Category:Staff Augmentation
A staffing agency is a business that connects companies with temporary, permanent, or contract employees. These agencies can work with different types of companies, from manufacturing and industrial sectors to those in the technology and healthcare industries. When a company has a sudden increase in workload or needs to fill a vacant position quickly, it can turn to a staffing agency for help. The employees supplied by these agencies are often referred to as "temporary workers," "permanent workers", or "contract workers."
What is a healthcare staffing agency?
Healthcare staffing agencies are companies that connect qualified healthcare professionals with hospitals, clinics, or other medical facilities that need staff for a short amount of time or on a longer-term basis. The top healthcare staffing companies will typically have a pool of nurses, doctors, therapists, and other professionals that they can draw from as needed, depending on the specific needs of their clients. The best healthcare recruitment agencies also offer clinical staffing services to fill in for staff shortages or cover a leave of absence.
When should you opt for a staffing agency?
When hiring a staffing agency is the best solution for your business, there are times. They can help you find the perfect employee for the job, saving you time and money. However, there are also times when it's better to hire employees independently. Here are three signs that you should consider using a staffing agency:
When you don't have the time to do the recruitment process yourself
When you need experts in a particular field of work
When you are experiencing a high attrition rate
A business that needs expert staff within a short period should look to hire a staffing agency
When a business knows that the staffing need is going to be a continuous one
Five critical roles and responsibilities of a staffing agency
Staffing agencies play a critical role in the hiring process, serving as intermediaries between companies and job seekers. They provide a valuable service for both sides by helping businesses fill their vacant positions quickly and efficiently and helping jobseekers find work that is a good fit for their skills and experience. There are five essential roles and responsibilities of a staffing agency:
Providing employers with qualified candidates. A good staffing agency will have an extensive database of qualified candidates, which they will screen and match with the best jobs available for them.
Shortlisting candidates and conducting interviews, and verifying candidates' backgrounds and employment history
Drafting contracts and examining legal issues and .offering training if necessary
Monitor the performance of the temp workers to ensure they meet the requirements
Essential responsibilities of healthcare staffing companies:
The healthcare staffing industry is proliferating as the demand for qualified medical professionals increases. Healthcare staffing agencies are responsible for supplying qualified nurses, doctors, and other medical professionals to hospitals and clinics.
One of the most critical responsibilities of a healthcare staffing agency is to ensure that its employees are qualified and meet the standards of the healthcare industry. Agencies must also ensure that their employees are adequately trained and have the necessary skills to do the job.
Another critical responsibility of a healthcare staffing agency is maintaining a database of qualified medical professionals. This database should include the resumes and qualifications of all potential employees. The agency should also.
The healthcare staffing industry is proliferating, and it is crucial to choose a staffing agency that can provide quality service. You can trust IMCS group for top healthcare staffing solutions. We are rated amongst the top healthcare recruitment firms in USA. We provide end-to-end healthcare staffing solutions that help clients from the initial screen until candidates are recruited and monitored.The technology-based solutions offered by our team works efficiently for our clients. For more information about our services, contact (972) 929-6600 or write to sales@imcsgroup.net