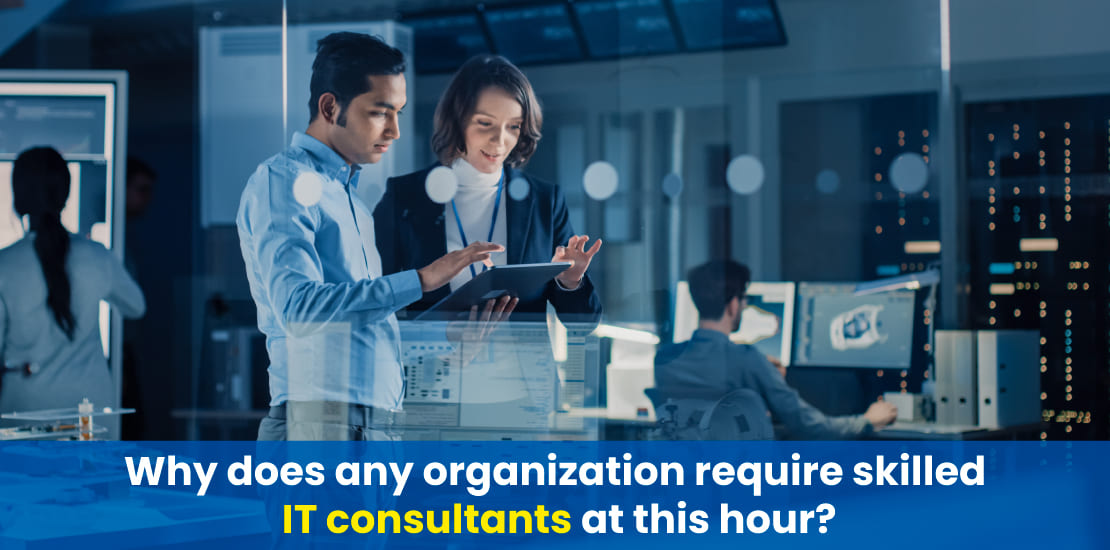 July 19, 2022
Why does any organization require skilled IT consultants at this hour?
Posted by: Ralecon Consulting Category:IT Consulting
Most consulting firms or services obtain a competitive advantage by developing market experience. They'll bring specific expertise and tools to the table that a company's normal employees might not have.
An IT consultant is a technical expert specializing in integrating information technology and assisting small and medium-sized organizations in becoming more efficient and discovering options they would not have known about otherwise.
Why do companies require IT consultants?
Hiring a full-time IT specialist is expensive, especially for a startup. Clients are billed based on the IT consultants Group's amount of work completed for them. Every month, a corporation may not require advanced IT services.
When integrating new organizational technology, data security is one of the most important concerns. IT professionals may advise a business on which technologies are safest.
The main advantage of hiring an IT consultant is that it delivers experienced advice and services to a business.
Entrepreneurs are always looking for new ways to improve customer satisfaction. Technology, when employed effectively, may help achieve this goal.
The benefits of hiring an IT consultant
Focus on the most critical company functions.
Regardless of the organization or industry, employees perform best when they concentrate on their core competencies. Trying to figure out Information Technology is a time-consuming and challenging task that comes at a high cost of potential. By hiring an IT specialist, your employees may focus on their main tasks while increasing your bottom line.
Obtain Professional Help
IT consulting services provide the advantage of a professional IT consultant having presumably completed several projects similar to your current situation. Knowing that your business is in the hands of a professional may provide you peace of mind while also enhancing your chances of success.
Get a second view of your business processes.
Technology can alter society as well as business. Hiring an IT consultant may provide your organization with a new perspective based on their experience supporting various projects and industry best practices, helping it grow and improve overall efficiency.
Budget-friendly
IT consultancy services provide significantly more value than cost reductions through optimization measures. Salary, benefits, workspace, and other expenses for a full-time employee may add up quickly. Hiring an IT consultant is necessary to handle a specific problem within a specified time frame, allowing for more cost-effective and efficient time management.
Boost your productivity and efficiency.
IT consultants are new technology experts whose jobs include aiding organizations in exploring new ways to increase output and efficiency. To achieve these goals, file servers, central databases, mobile platforms, and various other technologies are employed. To enjoy the full benefits of these complex technologies, they must be properly developed, installed, and managed.
Experience and expertise
It needs experience from past projects with similar aspects to determine which areas of your company's procedures may be simplified for greater efficiency. Hiring an IT consultant is the most efficient way to ensure that your project runs well, is completed on time, and that your company receives the best possible return on investment.
Access to More Information
Employing an IT consulting firm for a small business has several advantages, including having access to the most up-to-date expertise without committing long-term, as you would with a full-time employee. Because the expert is shared among several companies, even small enterprises may benefit from economies of scale and the greatest advice. A consultant provides your organization with expertise beyond its core skills, but you don't have to pay for it if you don't need it.
Employee Retention and Attraction
Employees want to do the task for which they were hired. Smaller, fast-growing businesses tend to offer their staff additional "hats to wear" and responsibilities as time goes on. This usually results in irritated staff and shoddy IT systems, which cause downtime and inefficiency. Hiring an IT consultant may help you tackle efficiency issues by deploying the correct solutions and keep your staff from "moving next door" to work for a firm that provides them challenges in their field of interest.
Remember that a consulting firm consults because it has expert knowledge and cutting-edge technology in its field of expertise. IMCS specializes in software development and has custom software development services. We take care of your IT issues with their highly skilled technical capabilities, with solutions that are optimized for your needs and budgets.