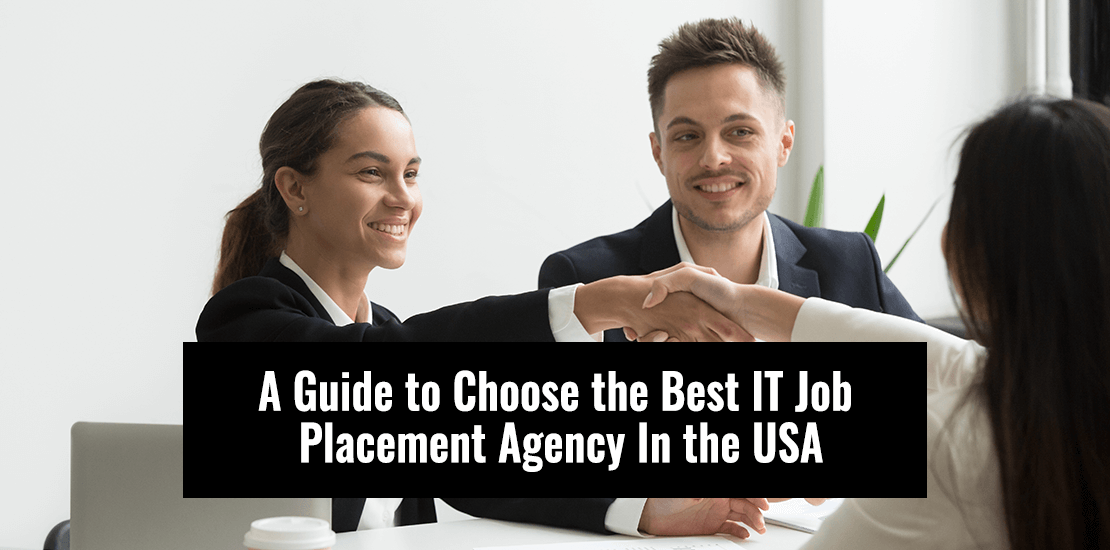 October 06, 2021
A Guide to Choose the Best IT Job Placement Agency In the USA
Posted by: IMCS Category:IT Recruitment
When it comes to getting a job in IT, the recruiting firms can be a lot of help in many ways. Without a recruiting firm, it can be difficult to get the right job when you most need it.
When you are stuck searching for a job and require help, IT recruitment companies can help. That is why first you will have to understand the different types of agencies out there who will help you with your job search.
In today's world, finding the right employee for a job role is a crucial HR requirement. Poor manpower can totally ruin a company, especially one that is working its IT staff augmentation. Taking the help of IT recruitment firms to fill roles is much-advised. For companies, it is all about hiring employees who can bring in business and expand profits. This happens when the right candidates get hired with the help of IT recruitment companies. So, whether you are a person looking for a job or a corporate company looking to fill a position, the right agency can make a world of difference.
What Is A Recruitment Agency?
A recruitment agency gets paid to find the right employees for companies that require their services. Such an agency acts as a middleman by helping companies find employees and people find jobs.
Types of Recruitment Agencies
When it comes to IT job recruitment agencies, they can be divided into a few types.
Employment Agency
This is the traditional form of agency that provides assistance to job seekers in finding suitable jobs. It is important to note here that some IT job recruitment agencies charge the job seeker, so it is best to ask about it. Most such agencies will usually charge the company looking to hire employees.
If the agency charges money to find a job from the job seeker, it is not much use.
This is an IT job placement agency that is industry-specific, i.e., it works in IT. Within this category, here are two main divisions:
Contingency Agency: This is a type of search firm that gets paid only when an employee gets hired by a company. This is the type of firm that works in the low and middle-level employee search. It is usual for such firms to send a lot of resumes and contacts to the employer company.
Retained Agency: This is a type of search firm that has an exclusive relationship with the employer company. This kind of IT recruitment consultancy gets hired to find senior-level positions within the company. They work exclusively for a certain period to fill a job position. They can be paid expenses, and also a percentage of the employee's salary.
This is the kind of IT recruiting firm that actually works with people to find them a job that is suitable for them. You can also send your resume to such a consultancy so that they may line up jobs for you. IT job recruitment companies that specialize in finding candidates who are not just suitable for the particular industry but for the particular job role belong to this category.
Which is The Right IT Placement Agency to Choose?
Find Someone In The Same Industry
The smartest thing to start your job search with is to find someone in the same industry. So, if you are looking for a job in IT, then choosing one of the IT recruiting companies is the best idea. In case you are a member of a professional association, you may be able to get a few recruiters who fit the bill.
It Is Okay To Ask Questions
That's right. With IT job recruitment agencies, it is absolutely a good thing to ask questions. This is going to be a professional relationship that may last a short period, so be sure about it is great. You can ask how long the recruiter has been in the business how long they have been in the IT industry and how they are going to present employers with resumes. You can also ask how long it is usual to find a job in the IT sector and what all they need from you.
What Is The Registration Process
An IT job placement agency will have a registration process. It is a good thing to ask upfront about what the process is and whether you have to pay a registration fee. Sometimes, such agencies will ask for a small fee but they are going to do a good job of finding you a suitable job.
As a person looking for a job, you must know exactly what to expect. Understand what is expected of you and what kind of jobs the IT recruitment consultancy can line up for you. You can also ask about how many people they have placed in the IT industry to date.
Don't just choose the first firm you find. Compare and contrast a few IT recruiting firms and find one that seems like it is going to meet all your needs. If you already hold a position in the industry, then it is going to be easier to find a job. If that is not the case and you need a job soon, then choosing an agency that can make haste is your best choice.
After you have done all of the above, it is time to make your choice.
Conclusion
Among IT consulting firms, IMCS is the choice for IT companies looking to fill positions. They have been in the industry for a long time and have a pre-screening process that helps them find the perfect recruit for any IT job. Fill up the contact form here to start the process of job search and they will call you back.