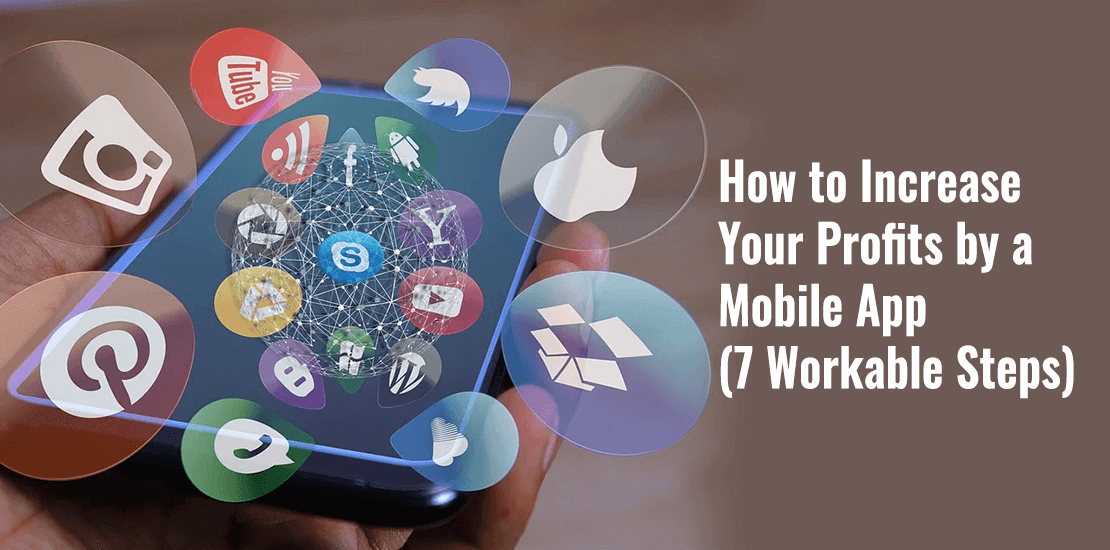 June 14, 2021
How to Increase Your Profits by a Mobile App (7 Workable Steps)
Posted by: IMCS Category:Application Development
A simple mobile application has the power to transform your entire business owing to this modern tech-savvy world. With so many big shots in the industry, your brand is competing with local, regional, national, and global giants. To move in the right direction forward, your company should primarily now focus on application development. Because with the huge amount of smartphone users every single day, your app can be your fundamental source to earn many dollars as revenue.
Read the given points below to know more about how app development can indeed benefit your business and its revenue.
7 Great Ways to Boost Corporate Profits: With an App
Entrepreneurs are more stubborn today when it comes to investing certain cash over app development companies for design, development, testing, and maintenance services. Since the perks are high later, including customer retention, revenue generation, brand awareness, etc. Unlike the mere tips on concentrating on user experience (UX) and user interface (UI), the following context might help your business earn better revenues with the best utilization of a mobile application for your customers/clients/consumers:
I. Freemium Features:
You have so many examples here; right from Facebook to Grammarly, it is basically launching an app with limited features. Some of the popular examples include:
Facebook
Grammarly
OfficeDrop
Evernote
Photoshop
Once the user likes your digital product, then he/she would be interested to pay for trying the premium functionalities as well. This is recommended for improving the total monetary value of your application.
II. Customer Loyalty Program:
The actual intention behind a customer loyalty program is to retain your existing users and also to make them visit back your application frequently. To utilize this step, provide some rewards for your users, if they perform specific actions inside your application or if they have completed a transaction. By implementing this simple strategy, your customers will tend to pay more towards the product, since they would be excited to check out the internal app rewards that you would be presenting them in return.
III. Push Notifications:
It is common for your mobile users to forget what has to be done with your app at some point in time, or they might be drifting away to another new application in the market. For both these cases, app push notifications come essential. By sending them regular alerts and reminders, they may get signaled, and once again, the user comes back to do that action inside your app. The biggest benefit out of this technique is that it will increase your business conversion rates without ever compromising on the user experience!
IV. LTV Estimation:
LTV or user Lifetime Value is a prediction-like calculation, to estimate the worth of a new user who installs and tries your application. LTC can be boosted by:
Offering some value-packed content that keeps your customers engaged.
Providing 24/7 customer support if possible.
Building new relationships with open feedback mechanisms.
Servicing with personalized features inside the app.
This is going to serve you with many perks, such as high ranking the user base, precise targeting for customer loyalty, retention of existing users, etc.
V. Branding
Never underestimate the influence of digital marketing in this digital era. Your works do not end merely by designing and developing an app. You should also be involved in promoting and branding the same among people. Go with strategies such as user pitching, social media marketing, content marketing, customized email marketing, for attracting new users as well as retaining existing users. Not only does brand awareness increase, but digital marketing also proves your competency and uniqueness in the app market.
VI. Paid Applications:
To drive in better revenue with your application development, you might go for the option of paid apps. It's simple – you have to fix a nominal price for users to install our app from the digital store. And that application should give your users the right value for the money paid. Unlike other strategies, paid apps should be used wisely, since this is a double-edged sword – smartphone users may either increase the demand of your app or they may completely drive off from your business. Word-of-mouth also plays a crucial part here!
VII. Localization
Localizing your application is one of the immense steps you can take for increasing your user base and the company's revenue. In addition to employing all the stated strategies, you can try adapting your app for different countries, and change the context, images, functionalities, and contents, based on their:
Culture.
Ethnic background.
Gender diversity.
Race, religion, community.
Language.
Customs and traditions.
Note that when localizing your app, make sure that you prefer to choose design styles and options that match your target audience, without hurting their culture or touching upon the sensitive areas of their region.
Conclusion
Today's business environment is so competitive that you must have the right edge to take over the markets; app development is one successful way to do it. Entrepreneurs are keen to put their investment into the mobile app design and development services, as the brand awareness, customer base, and revenue of the business will increase. Strategies such as paid apps, LTV, branding & promotion, localization, freemium features, customer loyalty program, push notifications, etc. will make your application unique, innovative, competitive, and most importantly, stand apart from the rest of the crowd.
Searching for top app development companies on the internet? Search no more; with experienced developers, state-of-the-art design tools, and highly secured processing, IMCS Group provides mobile application development solutions, as per your custom requirement. So, be it an Android and iOS project, the team has got you covered! Just give a call at (972) 929-6600 to start boosting your business awareness, customer base, and revenue.