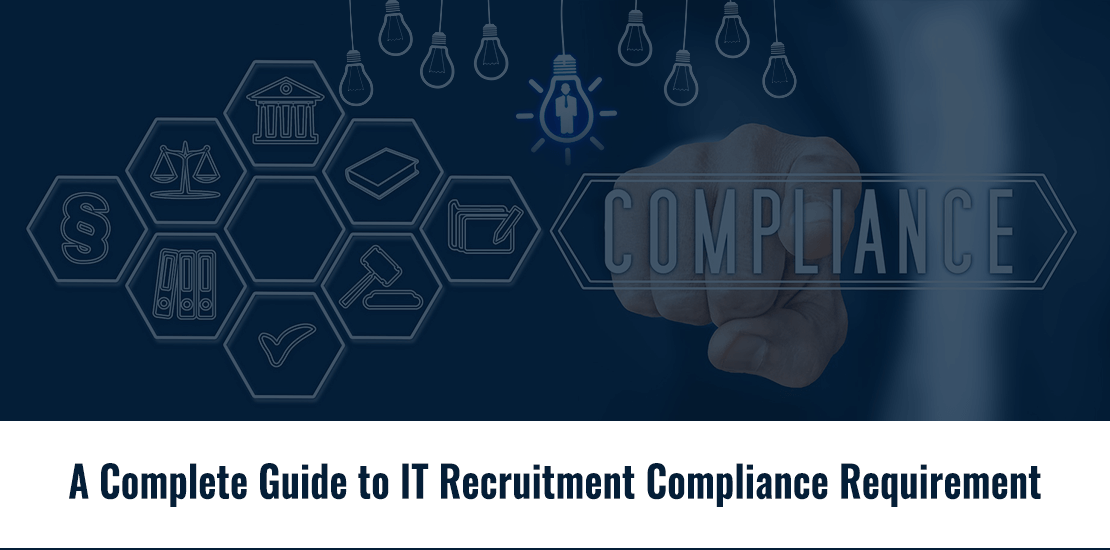 October 22, 2021
A Complete Guide to IT Recruitment Compliance Requirement
Posted by: IMCS Category:IT Recruitment
Businesses and IT recruiting firmsneed to conduct recruitment processes that adhere to local, regional, and national jurisdictional laws. Failing to recognize the various types of IT recruitment compliance could give rise to potential compliance escalations on IT job recruitment agencies. Although the principle aim of any recruiting process is to hire the best candidate for the job, it must be done ethically and fairly. Lack of compliance not only risks heft penalties and sanctions, but also a ban on an organization's or the IT job placement agencylicense to conduct business.
Although compliance is a complex topic, organizations must be willing to invest time, effort, and money to set their recruitment processes in place and hiring IT recruiting firms. Discrimination charges levied against organizations are proof of this fact. Labor courts or equivalent jurisdictional law enforcement entities have always conveyed the importance of this business process to organizations. But the fact of the matter isthat many organizations or IT job placement agency firms or the so called, best IT recruitersdo not have complete information on IT recruitment compliance.
Even if companies and IT job agencies understand some of the tenets of fair hiring, it is still inadequate to provide a comprehensive, fulfilling, non-discriminatory, fair, and equal recruitment experience to candidates by IT recruiting services firms. Compounding the complexity is the nature of the business, as no two organizations may have the same IT recruitment compliance requirements.
In this regard, organizations have been setting up compliance teams consisting of compliance officers and attorneys at IT recruiting firms. Corporate lawyers or attorneys are fully involved in creating, maintaining, updating, and evolving compliance processes, of which human resource recruitment can also be a part.
What is IT Recruitment Compliance?
There are various aspects of IT recruitment compliance by IT recruitment companies. The following are some of them.
Information Compliance
The best IT recruitment agencies do not make recruitment decisions based on color, race, religion, sexual orientation, gender identity, nationality, pregnancy etc. by IT recruitment companies. As an example, a job listing that states "Only males candidates may apply" is discriminatory. Unless there is evidence that the job requires this, then this type of job posting could raise escalations against IT job recruitment agencies. So it is important to articulate the right type of job postings. An inclusive job posting does not stipulate barriers for applying for the job based on any of the protected categories. However, for job listings that are only open to certain nationalities; IT job agenciesshould back such job listings by a government mandate.
Interviewing Compliance
The best IT recruitment agencies formulate questions that assess a candidate's aptitude for the job. Questions revolving around gender, religion, race or color must not be asked by consultants at IT recruitment companies. One way to avoid this is to create interview templates. Such templates serve as an itinerary for the interview. These are pre-approved question banks by IT placement companiesfrom which interviews must not stray. Another common practice by best IT recruitersis to record the interview, so that the interviewer is forced to adhere to the commonly accepted interviewing protocol.
Background Verification Compliance
Checks on a candidate's past professional and personal life by an IT recruitment consultancy can be done subject to approvals from the relevant regulatory authorities if the information sought by IT employment agenciesis highly sensitive. Employers have to substantiate the requiring of such sensitive information in order for them to make a hiring decision. In general, only the employment history, academic history, drug test history, convictions, and driving history of the candidate is checked by the IT recruitment consultancy. Any further check needs substantiation and the Top IT Consultancy Companies only do it based on specific job-related requirements. As per the Fair Credit Reporting Act, the governing set of laws for background verifications of prospective candidates, IT job placement services need to obtain written consent. Only upon receiving the written and signed consent from the prospective employee can the background verification team of the IT job placement agency proceed.
Job Offer Compliance
When a candidate does not qualify for an open position, it is the responsibility of the employer or IT job placement services to provide the right justification for the candidate's rejection. Often, this is not the case with IT employment agencies. Thousands of job applications are turned down because of obscure or unknown reasons. The reason for rejecting a candidate can be internal to the company or IT recruiting services firm. This company or IT Consulting Servicesmay not reveal the reason, because it could be a business secret. But the candidate has the right to seek clarification by legal means. If by any chance, a rejected candidate seeks clarification through a legal mechanism, then the employer or IT job agenciesshould be ready with a valid reason.
How Does Compliance Impact Recruiting?
IT placement agencies that lay importance on good IT recruitment compliance are able to tap into the best of talent. Some of the ways good compliance positively impacts recruiting are:
Skilled, veteran, and experience job applicants can apply for open positions without fearing age discrimination by any IT job consultancy.
IT job placement services recruitment process is fast, easy, and transparent. Prospective candidates tend to cooperate faster if the hiring process is transparent and unbiased.
A fair recruitment process by IT placement agencies is immediately recognized by veteran professionals who are able to fill the position and start on the job with minimal or no training.
What is the IT Compliance Recruiting Metrics?
Some of the metrics to assess the efficacy of IT recruitment compliance by IT placement agencies is as follow:
Attrition Rate of New Hires – IT job placement services can check if more new hires are leaving the company. New hires tend to leave early if there is an expectation mismatch based on their interactions with an IT placement consultancy. Their job profile may not be matching to what they expected and was communicated to them by the IT job consultancy.
Applicants to Interviewees Ratio – To assess the rigidity of the screening process by the IT recruitment consultancy, this ratio is helpful. It will help IT placement companiesdetermine if the interview process is too rigid or flexible.
Productivity Timeframe – The time taken by new hires to reach full productivity. It is also a measure of the efficacy of the IT recruiting services.
Conclusion
Having an effective IT recruitment process requires businesses to work with the best IT job recruitment agencies. Engaging such an IT placement consultancy that is well-versed with compliance, screening, onboarding, and recruitment saves organizations expenses, and increase their brand reputation. Contact IMCS for all your recruitment process. Write to sales@imcsgroup.net or call us at (972) 929-6600.